Absolutely did not intended to have another companion to join my family, but this one might be. Introducing, Madie (or for a fancier name, Medusa), the 'Teddy Bear'!!!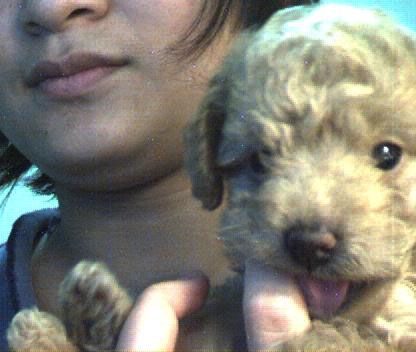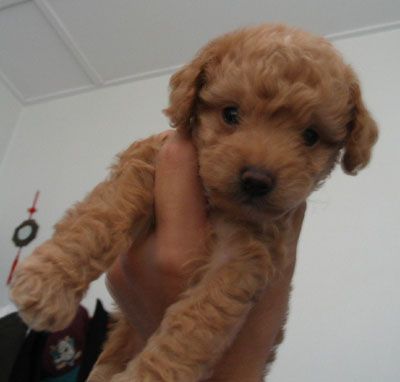 Was actually JUST supposed to be puppy-sitters, we did not intend to keep her because of Keanny, but have grown rather attached to her. Madie, my lil' alarm clock aka wakes me up at 8am AND 10am by biting my face and tugging my hair. Her breath stinks btw. It's amazing how fast a puppy can grow... Just last week when I first held her, she's palm size... now it's two palms to hold her, ppl! =P Her biting stage has just begun, and I'm keeping all of my precious things from her reach and warning my family to take a leaf out of my book as well. Currently she snuck under my bed to play and has fallen asleep there. Hope I can keep her. *cross fingers*
Twas my brother's bday party today, although technically, his bday was two days ago. It's his 21st bday, he qualifies for every damn legal age limit, so it had to be special. Happy Bday, brah!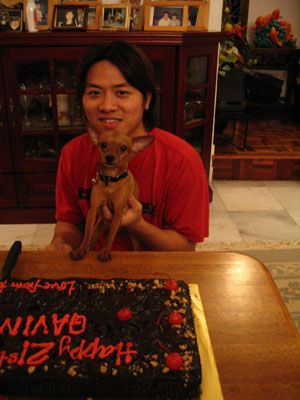 BBQ we had, and ooooh, yummy yummy i've got love in my tummy... Chicken, mutton, lamb, pork sausages, potatoes, SecretRecipe's delicious brownie cake, jellies, bu bu cha cha, noodles, garlic... so many more... mmm...my weight also...so many more... XD
I STILL haven't figure out what to get him (hey, better late than never! =P). Wanted to get him a disco ball (RM80) but he decided he doesn't want it. Hmm... what abt a Japanese lamp? My budget is RM100 and below, GIVE ME SUGGESTIONS!
Found a job although the pay is not that attractive, but hey, weekdays only! Don't really feel like working. But when the green stuff is low in your household... erm, when do I start, ma'am? *grumble grumble* It's a data-entry, tie-up-the-loose-ends job which am pretty familiar with. Boring and monotonous. Have tried Chicken Rice Shop, Pets Wonderland, Starbucks and countless other, either they have no job opening or their wages ain't high enough. Yea, yea, so I'm picky.
Watched Vandread the anime... borrowed it off my cuzzie. Watched 13 episodes straight, with the first four episodes twice. I couldn't have enough of it. Can't wait to watch Season 2!
Supposed to improve my absymal drawing skills this holiday... whoosh! down the drain it goes!