And so college started again, semester 4, another one and a half year to go before I'll be kicked out into a new world with no schedules for me to follow and where it'll be me and only me who does the scheduling... Why time passed ever so slowly when I'm young, but now time is like a bullet train in a hurry?

Hmmm... this semester's timetable isn't too generous on the day offs... last sem we had two days off, and now, it's a MAYBE one day off =\. First day, Digital Animation 2 and Complimentary Studies 2. By Mr Loo and Mr Foo.

Hoo??

Eh, read the previous sentence la.

As always, first day you'll always feel lethargic and sleepy, especially after lunch... So went into a bloody cold class, where the lect, Eugene Foo, told us about what we're expected to do, that we'll basically be doing motion graphics and showed us some samples of what he means. Of course at our level he won't expect something as if taken out from a Nokia advertisement... maybe later. Anyway, eyelids heavy like lead, then he showed us his own work.

Wahlau eh, terus bangun! Friggin' nice! Pavements morphing into a huge snake, buildings tumbling down forming wings, traffic lights extended necks turning into a three-headed giraffe... simply, wow wow WOW! I love the atmosphere; it's a bit old, rustic and the way he played with the colours... I was so awake. Then I remembered his name in newspapers, winning awards and such. And now I can see why =P

Now the next day! For the last sem, TJ gave me and Kez a ride to coll, while Seiji would drop us at the Bukit Jalil LRT... But this time Kez's driving, hoho, and this licenseless hippo happily tumpang a ride XD. Good god, I need to stop depending on people.

Speaking of Seiji, Seiji's 21st bday was on that day. We had an afternoon class on Tuesday, a Mr Ike. And the funniest thing was when he went, "Okay, class, this whole class we're going to study about flash!! As in Macromedia flash, and if you want to learn about the OTHER flashing, learn it outside the class please~~!"
Me and Kez glanced at each other and tried not to laugh (you'll see why). The lect was pretty open-minded I guess... the samples he showed us has some... 18sx elements XD but not too much, no worries. And he seems to like blindless violence in flash movies... I found it amusing initially, but it gets kinda boring.

Once class was over, we got Seiji into an empty class to open his pressie.

Well. I gotta warn you, it's not work safe =D.

And it is?

..
.....
.....
........
.........
Seiji unwrapping his present.... (

born in the year of a cow, hence the cow pressie paper and milk carton style wrapping

)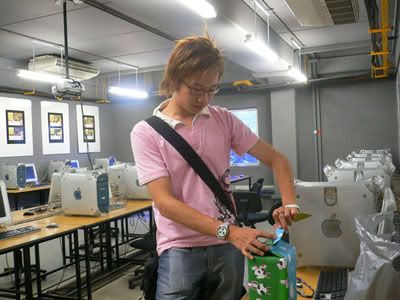 ...........
..............
..............
..............
........................
............................
............................
(good god, how many dots it takes for a surprise revealing???)
..................................
.......................
..................
................
...........
...........
..........
.......
...
..
.
.
.


... a YODELLING DOG FLASHER!!!

First, you clap. then.... it barks! It flashes! It yodels!


(and it's rather vulgar because the... *ahem* actually throbs)


We were hoping that he hasn't seen it before, unfortunately he had, but he's still surprised because he'd never think he'd own it someday =D. We still had good fun, all of us laughed like mad!

Me and Kez risked our good innocent little girls reputation (haha) to buy it, and some guy who saw us buying it said loudly within Kez's earshot, "These two girls pin tai wan..." TT.TT *pretend to have really thick skin* Yaya, then why are you here, since this is a pin tai shop XD (No, it wasn't those condom shops, really!! Just a really really cool store)

Kez brought her camera to 'capture the moment', ahaks. There's even a video .... hahha, rele nothing better to do!

Meh. Lazy to type. Here's the pics.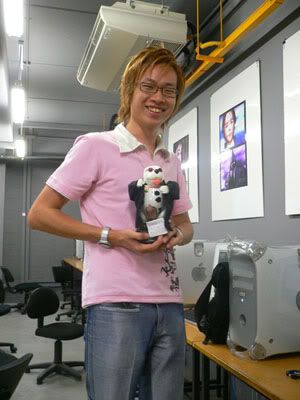 Pose, Seiji, pose!


Oh ya, the thing about our college's comp labs is that the people passing by outside could see inside the class, via a huge glass window....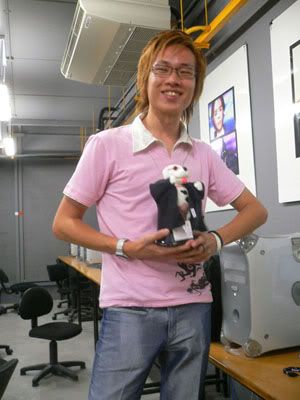 and this was the part a girl passed by outside
& saw Seiji beaming holding a flashing dog. XDXDXD
Seiji: *glance* OMG SHE SAW!!!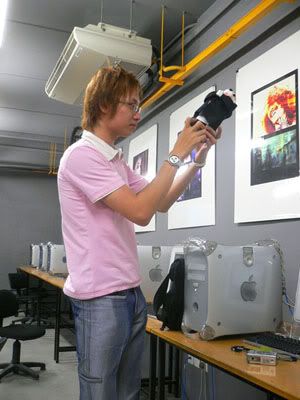 Siapa lebih panjang.. JK! Seiji examining the dog =P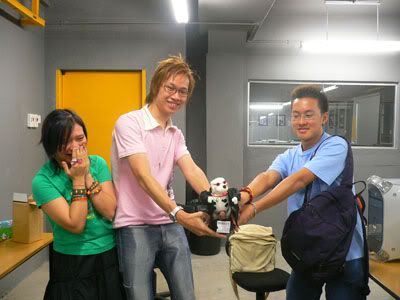 Eeek! Flasher! - from left: me, Seiji, William
(See see!!! That's the window!
This time we're smarter... pose AWAY from the window XD)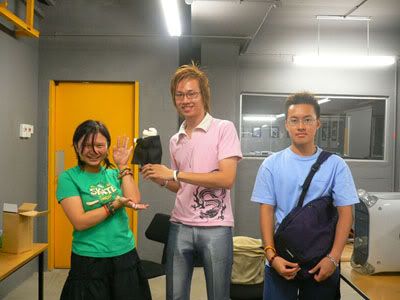 gianne: the Loscar goes to... Seiji-san! Here, have a pin tai dog!!
seiji : *sob sob* thank you, thank you, I would like to thank my mother, my father etc etc
william: ... WHAT??? I lost to Seiji?!? =(((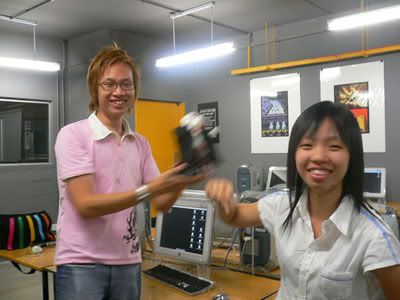 Expression: priceless. Kez's going OMG, can't believe we bought this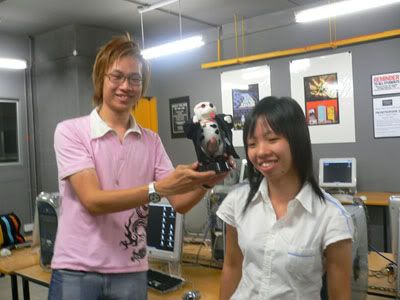 Fine, fine, I'll pose with the dog


Okay. Then do you see those pictures on the wall? Well, let's just say the dog had two photoshoots with two pics and let's leave it at that =P. Anyway, Seiji's blog link is on the right, so if you ever want to wish him a belated, go ahead =D.