St Joe, Miri bully:[action taken, so link removed]

Seriously, I nearly cried when I saw this. It's so incredibly frustrating that you cannot reach inside the video to help the terrified girl, and you just keep watching them slap and hit her, even when she told them she didn't do it. Why didn't she fight back? Easier said than done. You don't see bullies picking on someone who could stand for themselves do you?

By no means am I promoting violence, but the bullies in the video deserve a huge slap with a porcupine. ESPECIALLY the one with the green hairband. The thing is, it's not her fucking problem, she did not even know what it was about at first, just really keen on raining her fist on someone weaker. She was the one who suggested to the other girl to hit her. Did she think she looks really cool? Nuh-uh, she just looks like someone who deserves to be kicked deep into the forest so she can wrestle with bears. Uneducated, uncouth, lower-than-3rd-world annoying bitch that I want to stuff back into her mother. Don't exist better. She's just a tape recorder (Note: "YOU MEI YOU JIANG? x23894723568) without an iota of brain cells anywhere.


[image removed]
The green-hairband girl turns to her friend and goes, "Eh, ask her whether she got say what ah?" Bitch.


Here, remember this barbarian girl (still the green-hairband one)
[image removed]
So it begins.
[image removed]

And it goes on.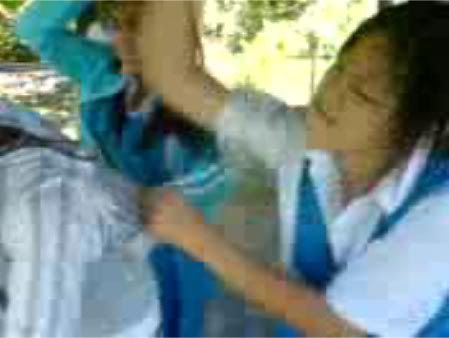 And on.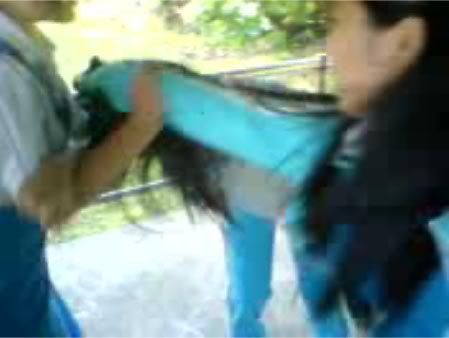 ...and on.

There was even a girl who grinned at the camera, flashing the peace sign. There's a girl not far off sobbing and the atmosphere smells of frantic fear and she smiles for the camera? This screenshot is soooo good for dart practice (after I print it out of course)


Sorry, I'm just really really pissed. I can't call them animals either because THAT will be an insult (to the animals ya).

Someone in YouTube praised the person who took this video because 'it exposed high school bully'. DUDE, are you fucking real? The one holding the camera was a GUY, and he followed the progress allllll the way. He was near to the fight all the time. Therefore, I vote for the removal of his balls.

As for the guys standing at the sides, I wished they had intervened earlier. Even after they did, the scums kept going after her. I actually typed this while I'm waiting for the other half to load. And now that I'm done watching it, I'm already crying.

The newspapers have already picked this up. So they will probably get some nice little punishment. Not enough, imho. I think it's better if they broadcast this video all over their school, the city and then parade the bullies down the street. Nothing like psychological damage and shame, as they have inflicted on their victim (s).

EDIT : One picture removed, with the victim's face clearly in it, for protection + respect