Not too inclined to stay too long on my computer at the moment. For after 2 months of staring into it, and I think my astymy-smthg-ism's power has risen, therefore i deserve a short rest.
Another art filler post... drew this in the beginning of the year, then abandoned it in true-gianne style, ohohohoho!!

[ Photoshop + tablet ]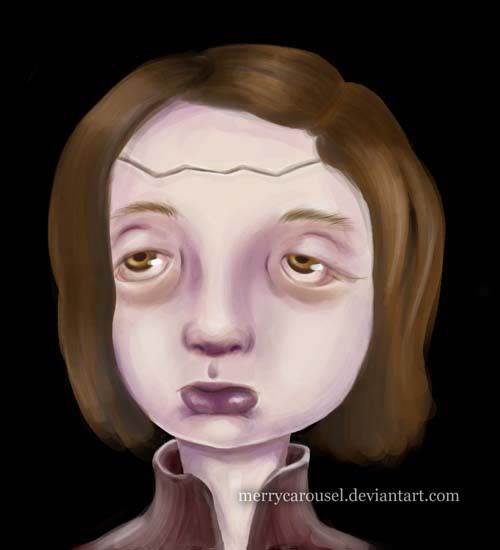 Click for bigger, it will lead you to my DevArt page.
Actually there's not much to finish up, since it was about 95% done and I just had to touch up a bit here and there today. Just a doodle really; was testing out a new colour scheme. The crack is probably stress-related. I really don't know, ask her. I call this... "Buh." Because that the word that pranced in my head whenever I look at it.
So "Buh" it is.
One of my holiday goals is to finish up all those halfway done works in my folder, there are simply far too many WIPs and only one or two completed. I have a pregnant teenager, a burlesque dancer, a hopeful girl, music listener and a few more.
My aircon is leaking like it's owned a constipated bladder before this 'release', and it stinks like some funny shit. I didn't notice the extent of its leakage and by that time, my carpet drank it up and spreaded the stinkiness in the radius of 1 meter like cancer. It soaked some drawing blocks a little and the smell transfered to my mom's batik pajamas (i'm supposed to alter it a little to suit her more) and my jeans which was on the floor (since my cupboard has no space). Burning incense has only worked about 40%.
Just packed up my room into a more dignified state. I can't say cleaning up my messy room, because people who knows me would just pronounce that as 'bollocks' because it's never neat. My plea is that I have far too many things that I've hoarded like a hamster. I still have that shirt when I was in primary school, and schoolbags and broken bags that I could not bear to throw away. Not to mention all of my books scattered throughout my room and a fabric stash I've accumulated.
Going to a Japanese buffet with Kez, Seiji, William and TJ in about an hour or so!!! Yay, yay, can't wait~~ my stomach is already tugging my brain while going, "Are we there yet? Are we there yet?"
I asked it to shut up and to sing "99 bottles on the wall".