Feeling sleepy when i'm on the computer, but when i try to sleep i can't. But i'm still sleepy, bah.

Dreamt i had long hair, and my mom lopped it off and i became depressed. Don't know what's up with that, because i personally prefer short hair on myself, though currently trying to grow longer locks without getting the itch to reach out for the scissors.

Can't seem to bring myself to spend over rm30 for a haircut. So far, 99% of my hair cuts costs rm20 and below. The one time i spent a lot on a haircut, it came out horrible. Well, that put me off for sure.

Before hairdressers all over the world start hating me, i'd like to clarify that your skills deserve that amount of fee, and i'm just a tight arse where money is concerned sometimes.

You'd be too if your state of wallet resembles mine. Need to get a job, fo' sho'.

Anyway, going to the hairdressers is like playing russian roulette... only that 5 out of the 6 chambers are filled, and only one would make you feel relieved. Suffered bad haircuts my whole life, but i get people pointing out that it's my face shape (it probably is). Please, don't remind me of my mushroom-resembling phase back in F1 . Whenever i see those pictures i get a huge urge to grab a nearby bowl and place it on my head, exclaiming gleefully, "perfecto fit!!!" or simply "new fungal species". Furthermore i was a fat mushroom, bursting in my pinafore and wore big geek glasses (gold tinted rims omfg!!1!1one).

How the hell did this guy fell for me when i looked like that???? Unphantomable, really.
My best haircut was in F5, when i followed Kirsten Dunst's character in crazy/beautiful. But then again, i just came out from the hospital and was thin. Even bought a pair of jeans a size smaller, but couldn't wear it again after a week. Ahhh, my one week of glory was over!!
EDIT: Found a pic of me and a friend back in F2 (no, he's not the one who fell for me). And I realised that I have an uncanny resemblance to a certain celebrity.
..
.....
....
...
.....
...
....
...
.....
...
....
...
...
....
............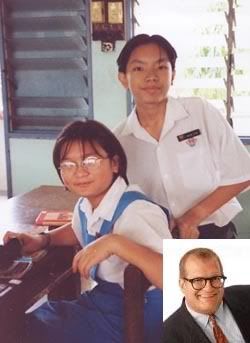 Unfortunately, it's Drew Carey.