My glorious morning was marred when I took a look at the headlines for today's papers .
What. The. Fuck!!!?!?!
Breathe, gianne, breathe. Put the spiked-clubs down, yes that's right, put it down. *takes a deep breath and counts to 10*
I could set off in a litany of criticism, but I'm sure others are already lambasting MPKB, so I'll let them do it because *headwall*-ing for 3 minutes has made me quite dizzy.
This is what we call one step forward and two steps back.
Old news: What's with the lowly smear campaign, the alleged photo of Gombak MP Datuk Dr Rahman Ismail and Senator Datin Paduka Norhayati Onn? If you want to fight, fight clean, boys and girls. No need to find the need to smear other people's name to get to the top because no respectful person will do that. Even if the photo is true, it's not your bloody business.
Been sleeping earlier these days. Gone are my 7am-4pm inhuman snooze time, because I've started to sleep before 12am. Waking up around 6am-9am. Feels kinda weird to be sleeping so early actually, even weirder when I get sleepy at 10pm ZOMG! It's just so.... grandma-ish >.<. Crazy sleep time will resume one mth into my new semester I presume. But then again there will only be two subjects next sem, so see how la.
Remember the ending of this post? Last last friday news XD. Kez, Seiji, William, TJ and me went to a Japanese buffet at Saisaki. Sashimi, sushi, soft-shell crabs galore!!! Naturally we attacked the salmons first. We were speechless when Will came back and his plate was filled with... chicken. What the...!! Hahah, no worries, later he went for the sashimi and stuff. We ate until we were ready to puke. I didn't get to eat the green tea ice cream TT_TT. Also, Saisaki doesn't allow people to take pictures of their food. They seem quite strict abt it, even if it's on our own plates. But people, yes! Photos courtesy of Kez:

After we're all bloated from the buffet:
Kez, me, TJ, Seiji + William
It does look like Seiji the goat is butting the horse, doesn't he? No pun intended XD

Kampai! Kampai! Seiji + William
Then we went to galleriiizu to check out some artwork, and....

Being punished for being gluttons @ galleriiizu. RUNNN!!!!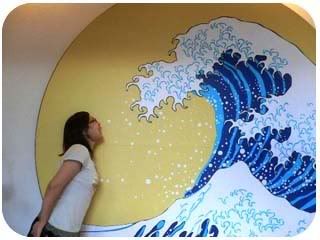 THIRSTY!!!!



Oh well, can't escape, so might as well pose or smthg like that
*smiles for camera* BUSSSSHHH!!! -gets splashed-
Apparently I still reign as the Queen of camwhore among my friends. Come come, my friends, join the 'dark' side XD.
We then moosey-ed over to KLCC to watched Happy Feet (absolutely adorable!!), and when the movie ended at 6pm, Kez and TJ went home, but the remaining three went over to Times Square where we promptly got stuck in the jam, got stopped by the police, and finally reached TS at about 7pm. I was searching for Santino Rice (he's the contestant for Project Runway season 2) because the papers said that he'll be there around 6 and I'm late TT_TT. ButI'm lucky!!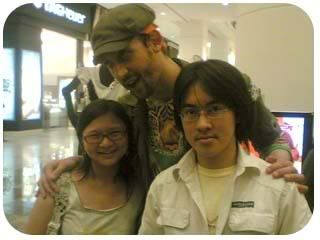 Santino is super tall weh! I feel so hobbit... he was wearing this cool army green jacket with a tiger pic on the front and the stripes began at the end of his sleeves. At first I was like, oh shit, Kez has the camera but she's gone home! My chunky historical cellphone doesn't have a cam, but Will's uber awesome phone has! THANKS WILLIAM!!!!! I was kinda nervous when approaching him. He was kinda obnoxious on TV (when facing the judges) but he is super friendly in real life, gave me and Will a big strong hand-shake and asked us how are we? I replied and was about to say, "You're probably bored by hearing this, but where's Andrae???", but instead I went for the boring safe "I love the show!!". Then, "Oh man, I feel so short..." and he actually bent his knees XDXD!!

He was looking the other way because there were someone else taking a picture and he thought it was that one, but I kinda like this picture because he looks like he's making a funny face.

Santino disappeared soon after that, so I was the last one who took a pic with him. There weren't that many people there because I think not many Malaysians know about the show, which is a great pity because I love love that show so much.

After that, we walked around. Was in the XL-shop (toy figurine shop) where I fell in love with this Last Exile airship, and Nausicaa airship + her flying ship, but I can't afford them at the moment, so maybe later. Bought two opaque tights; one black and one red. Loving the red one so much... wish there were more choices here!! After that we headed to Lowyat where Seiji checked out another figurine shop and William went to collect his keyboard or smthg, while I was wandering around them rather sleepily XDXD.

Next destination is Sg Wang, rooftop! There's even more figurine shops there so go figure what happened next =P. While they were salivating over figurines, I walked around there, and I'm so excited that there's more shops selling retro, vintage kind of stuff. Pure shex!!!

I found this shop that has those stillettos that I LOVE! Rounded, not pointed and the heels aren't too thin... it's so lovely and cute, I really really like them, even Seiji and Will say it looks awesome but it comes with an 'awesome' price tag too. *heartache* So torn. I haven't been infatuated for a long long time too TT_TT. Is RM80 for a pair of footwear too much?

Then the shops were starting to close down and we headed for McDs. Me and Seiji were still full from the lunch buffet (we're talking 9pm++, ppl!) so we just had some ice cream while Will had a proper meal (If you can use the words 'proper meal' at McDs...) and just chatted until it's time to go.