My mom, Charlene and me watched "A Tango Evening" in Wisma SGM last Friday.

The smiley face I draw one, okay? XD My seat was wayyy back though.
Since we reached there early (...like one hour earlier), Charlene and me went to have a look at the Malaysia-Philippines-Vietnam Art Exhibition. There's some intriguing paintings on display... Three floors worth of art! Okay, to be anally precise, 2 and a half floor, if that makes any sense XD. My favourite was this artist whose art was quite distinct... The mood is great and she/he would draw an outline of something over the painting with white paint. Forgot the name though. But the artist is a Filipino if I'm not mistaken.
There was this very interesting piece on the 3rd floor; people of various sizes kneeling in a circle with their heads hidden inside a pool. Their arms were tucked in, so you can't see them and you could only pretty much see their backs only, that has spiked bones coming out of it. As usual, me and Charlene tried to guess what it's all about. We were coming up with different views, and then it struck us that it *may* not mean anything at all. Observe.
Art Appreciators (or at least, trying to be): Hmmmm..... Ah, how magnificent! *strokes beard* The artist is trying to convey helplessness, and he's ashamed to face the world... Or they are unwilling to see the truth, nor to act upon it, to change things. Like the young generation these days, tsk tsk, how complacent they are... He's beseeching the youth of Malaysia to wake up, and act, and to not be 'tidak apa'! And look! The little people represents the next generation imitating their parents! Very reflective of our society. Yes yes... *strokes beard more vigorously* change the world with your own hands and not act like ostriches sticking head into sand!!! Exquisite piece, this is! Bravo!! Bravo!!!
... when it could be, the artist was just, you know, too lazy to draw the arms and hands...
[Note: It's an imaginary situation, mmmkay? Paintings like these usually has a message within, and it's kind of wonderful that each people has their own interpretation. It's a bit like reading Macbeth. Everytime you read it, you'd find out something new about it. And oh, for the record, ostriches do NOT stick their head in the ground, despite their eyes being bigger than their brain...unless, they're on a suicide mission, like lemmings.]
Yes yes, the tango performance! It was raining quite heavily, so the show was delayed for about 45 minutes.
Quick sketch of the stage because then I wanted to resume chatting with Char (I know... *roll eyes* "GIRLS!!!" XD). From Char, I got to know that tango was started from brothels, since it's such a sensual dance after all. In the beginning, tango wasn't even considered for a slot in national dance competitions, due to its history. But finally the competition organizers came to their senses ;P Hurrah!
Before the performance began, Ambassador Pablo Sader of Uruguay gave a small speech with these words: "The other day I watched them practice. It was amazing, because even without any music playing, they made music with their bodies. Even in the past, musicians would observe the dancers and only then they would compose a piece based on the dance. After that, they will improvise the music." When the show started, I could see what he meant. Very beautiful, passionate and expressive movements. Her feet were quick, precise and graceful. There were some parts where Laura Legazcue (the female half) would 'kick' between Federico's legs. Not something that a beginner should attempt... else, it's bandages for someone's family jewels...
After the encore, the dancers were given gifts of appreciation, as well as the Ambassador. The funny part was during the photo taking session; when Laura was posing with old Mr Liew (?), vice president of Wisma SGM or smthg, she cheekily lifted her knee across him and we were all in stitches. During the reception later (where the audience and dancers mingle, with wine and some food), Federico, Mr Liew and Laura were being photographed, and some of us were like, "Put your leg up!! put your leg up!!" and Mr Liew positively ran. Damn hilarious!!
At the reception,I got Federico to autograph the back of my ticket... Very nice and friendly fella! Gentlemanly I suppose. His hair was neatly slicked back during the performance, but it's slightly messier at the ends here.
| | | |
| --- | --- | --- |
| | | Federico signing Charlene's, also thanking her for the kiss ;D |
And yea, I spelt my name out for him, but their alphabets are pronounced differently from ours. Their 'A' sounds like 'E', but I didn't bother to correct him. At least it's not 'Giant' (>.<). He couldn't speak much English and I don't know any Spanish words other than, 'Amigo', 'Si', 'Bruja', 'Dos mios!!!' and 'Ai caramba!!', so he explained to me what it meant. It says smthg like, "Thank you for coming to the show. Much hugs. Federico Garcia."


Laura, Federico and several very outgoing ladies!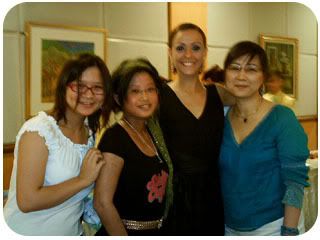 me, Charlene, Laura and Aunty Chin

Aunty Chin, Laura, me mom + Federico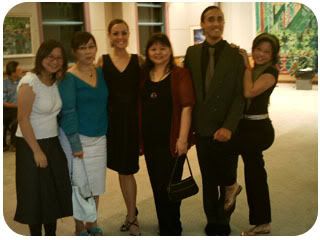 With me and Charlene (doing a Laura XDXD)
I didn't get Laura's autograph, but she was one gorgeous and absolutely charming lady. She's the type who walks into the room and everyone turns. Just told her I enjoyed her performance a lot, and even with limited English, she's really charismatic. Must add, cheeky as well! XD
Well, the night ends. Oh btw, if any of you want to be updated on any cultural activities happening in Wisma SGM, have a visit here. Especially if you're the artsy fartsy sort like me =P. The last time I went there was for the South America film festival screening, v nice.