This is Mylo.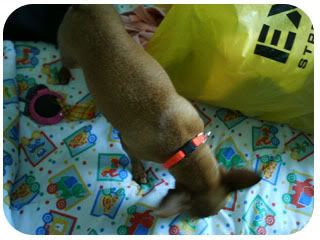 And she says hello.

"Something Furry is licking me!"

And Mylo finds that quite amusing to see.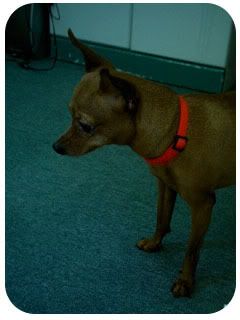 Thus, Something Furry and Mylo walked off into the sunset


as best friends even though they have barely met.

... well, I never said I was a poet, did I? Nvm, just concentrate on the cuteness of me dogs.

On other news, I can finally remove the pails from beneath my air-con. The electricians came today to fix it... I've never been so relieved, because the leak was getting worse (as in half the pail filled after 8 hours, not counting the small container below and the water that overflowed) and the dripping sound is just so.... *bloop bloop bloop* (irritating and kinda scary).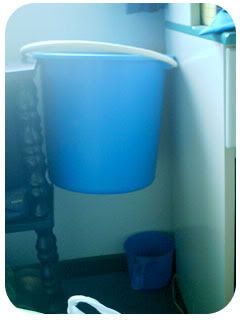 Bye bye pails!
Went to KL Convention Centre last Thursday, after a last minute news that a SIGGRAPH/GRAPHITE animation screening will be held there. Told whichever classmate I could catch online, but none went TT_TT. Closest was William, but he got there too late and the ppl said it's closed or smthg. Anyway, met LC there after walking up and down, feeling rather lost. Then as usual, our chat is full of bullness. But fun XD! Met Sandora in person, character designer for Saladin, v friendly.
The show started with a speech about the local animation industry. Foreign companies have already been hiring the skills of talented M'sian artists, animators and designers. About Saladin, and the Government's investment in it because they realised the importance of animation. In the coming years, the amount of animation graduates will rise drastically etc.
After that, they played the trailer for Saladin... finally got to see it! Hobbit has been telling me how it's not that good yada yada, but I like it. There's a few bits that can be improved, but so far, they're good to go. Then a little more speech by this guy, and then they played a video that showcases the works by the local industry (nice). After that, they passed the mike to Terrence Masson. He was telling us that SIGGRAPH received over 400 or 900 works from 40 countries, and out of those, they picked out only 90+. So the quality is very very high. The screening starts...
Cue for many gorgeous, mystical, humourous and jaw-dropping 3d animation, about 2 hours++ back to back (must admit to butt pain). Can't find any of those animations on YouTube, except for this. I didn't like Abstract Category winner one though... it's more of "Wow, how did they do that?", but it's pretty much a snooze fest. There's this one that involves a hamster, and that's my fave. Luis smthg. Another fave is Goh Fujita's work. Also, really like those that they incorporated into movies, like King Kong. Gosh, the details... well, generally, the standard of all of them are phwoar-worthy... wondering how old will I be before I can reach that level, hahah.

There was this networking party@Shrooms after that and we just went to check it out. Verdict is... eh nothing much. Food and people mingling. Latter only if you know someone there XD.