I travelled down south to Singapore (it was Bangkok initially, but GAH long story) with PY around Christmas time last year.
And here is my version of the trip ;P.
PY: Finally!!
GN: Please pimp it, kthanks. XDDDD (JK!!)
Let's begin with the day before my departure to Singapore. My bus was leaving on the 22th at 7.30am. I was scared that I will oversleep. So scared in fact, I couldn't sleep until about 2-3 hours before I'm due to wake up. Anyway, as usual I told PY to give me a ring at 6.30am, in case my soul is still prancing around happily at DreamLand. However, surprise surprise, I woke up at 5.30am, woke me dad up and was out of the house by 6.10am.

About a quarter of that time I keep checking if I have my money and most importantly, my PASSPORT with me. How ridiculous I'd look and feel if I got alllll the way to the Singapore customs to discover I've somewhat entered Singapore illegally. Then have to pulang balik...

When PY gave me a call at 6.30, I was just minutes away from the bus station.

*gives self chocolate for reward* -smug-

Well, I wasn't smug for long, because, I'm like, an hour earlier? Bah. Oh well, I brought along a book. The Third Eye by Lois Duncan. Nothing award-winning, but still, a good book. Chosen for its size and weight. Loads of (surprisingly) perky looking people waiting for their bus. While reading, a 'monk' came by with a bowl wanting money. Now, I've learnt from previous experiences that monks are only supposed to ask for food, so I pointed to the food stall and gestured whether he'd like food (he spoke Mandarin, and I'm a banana). He shook his head. Well, bugger off then.
Seriously. They are my new pet peeve. Don't just shave your head, don an ochre robe, physically declare yourself as someone who has given up their attachment to the material world and THEN begs for money. I mean, what the fuck?
I did feel kinda bad actually because I grew up knowing that monks should be treated with respect. I mean, I know that guy is baloney, it's something like they LOOK like one and my brain cell wires the information straightaway to my actions to respond in respect? However, as PY scoffs, "Don't need to show respect to these fake monks... they're giving a bad name to Buddhism." Right on!
The bus was slightly late (slightly being 20-30 minutes), and when it arrived, I was relieved to see that it's not a sad rusty sorry pieces of metal with wheels attached. I mean, I paid only 30 bucks while there's bus tickets that cost RM80 out there, and it didn't help that my mom was telling me because I paid so little, it's going to be an uncomfortable 5 hour ride and it's prolly not safe. On the contrary, it was VERY comfortable, there's even a little pillow for our head. On the safety side of things, there's two drivers and when one driver's shift is done, the other will take over and the previous driver would go right at the back of the bus where there's a curtain hiding a bed for them to rest.
[Note on the pictures; PY's camera pwns mine (without doubt), so those with the initials 'PY' on the top left corner are hers]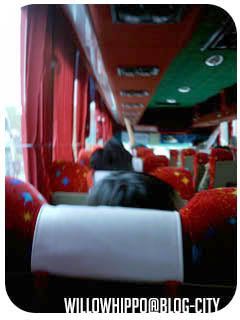 Chair with PY on it
Nothing much to say about the bus trip except me and PY chatted. And camwhored (see below for Evidence 1.0(a))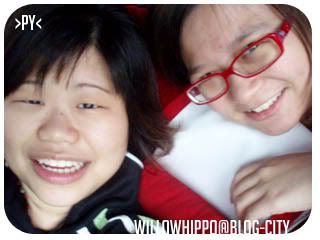 Evidence 1(a): The X CamwhoreFiles
Mostly slept, but nearly everyone woke up when we saw the floods in Johor. Plantations positively drowning in murky water.
And so we arrived in Singapore with moderately numb buttocks and a onslaught of SMSes from SingTel and Maxis (for me). Took a cab to The Inncrowd in Little India where we'll be staying. The place is real nice! After the whole check in and payment etc in the main building, the guy working there (who incidently, reminds me a lot of a certain lecturer) brought us to the other building, which was quieter than the main building. PY and me had a quick lunch over at the foodcourt nearby (S$3 for a wanton noodles), we rushed to City Hall MRT to meet PY's friend, Shirley, who gave each of us a little bundle of Reese's chocolate with peanut butter inside (my chocolate-obsessed self was dancing in joy) and she also brought us around! It was great, though my legs felt a bit numb due to excessive and non-stop walking XD.
Say hello to tourist-like pictures.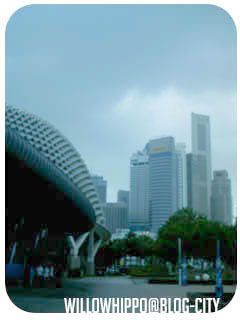 Esplanades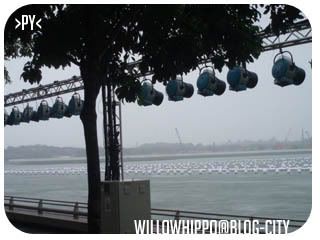 I love these floating balls. I love love it again later (You'll see ;P)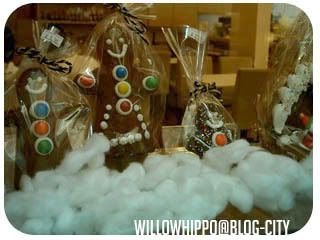 Remember the floating balls?
We were stopped by this lady with a bunch of markers in her hand, and before we could scoot away from a potential pushy salesperson, she asks us to write our new year wishes on the balls FOC. She said those words quite fast, and I bet she's bored of replying to "You sure no need pay ah?" XD Anyway, I thought this whole wishes-on-balls-then-floated is really cool.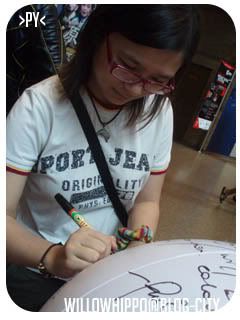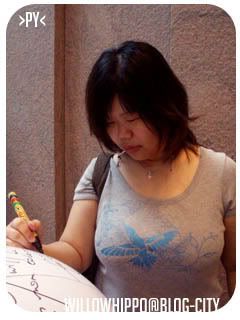 We were trying to think up decent-sounding wishes XD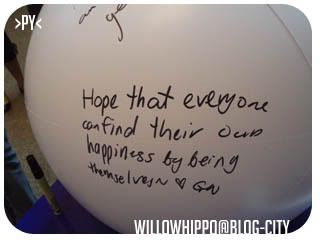 My wish *points up*. I know it sounds lame... but real wishes like, "Wish I can win 1st prize Toto/4D this year," would be too paiseh to write (not my wish though XD)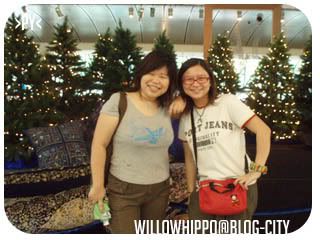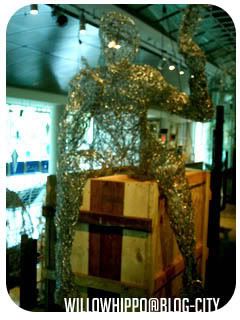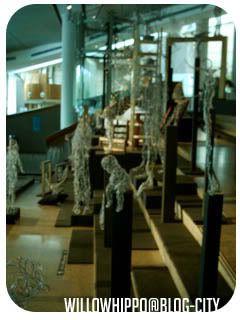 Gorgeous wire frame art, isn't it?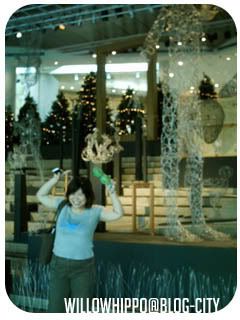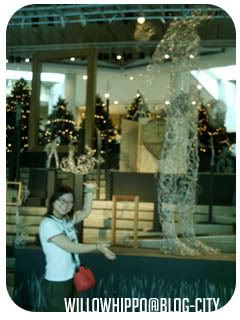 ... don't ask. XD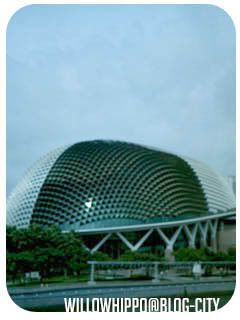 Aptly nicknamed 'The Durian'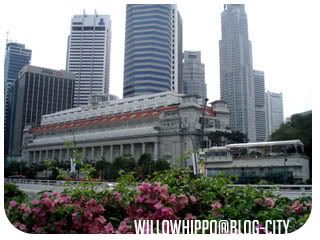 Fullerton Hotel... way more gorgeous irl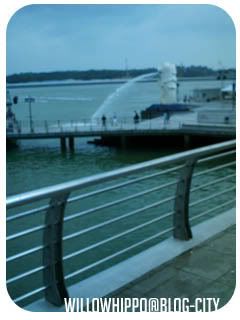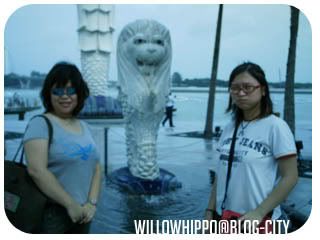 PY, Merlion, Merhippo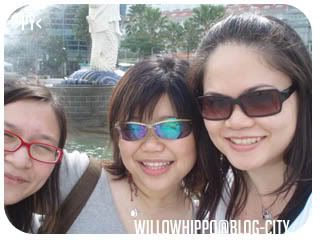 me, PY and Shirley (was joking to them that I will colour my lenses black)



Angmoh: "All your bases are belong to us"

He say 3, I say 4, hahaha *gets shot for cari-pasalness*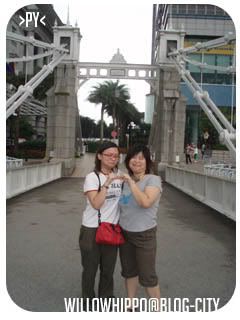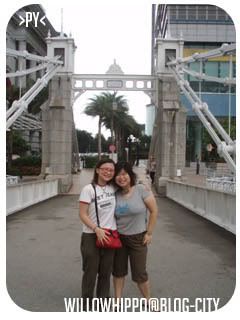 On the bridge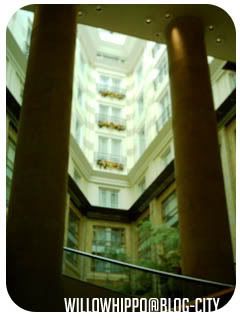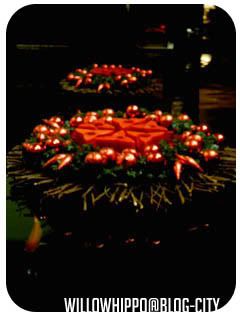 Inside the Fullerton



We're being the perfect tourists, aren't we?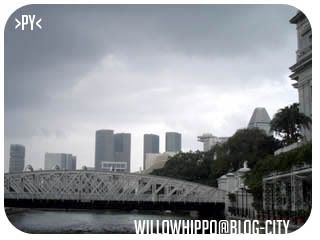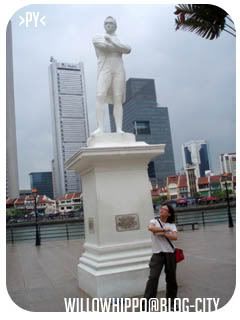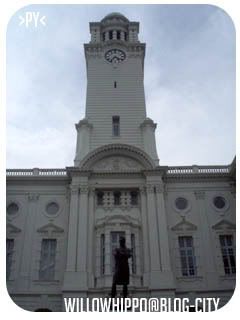 White and Black Stamford Raffles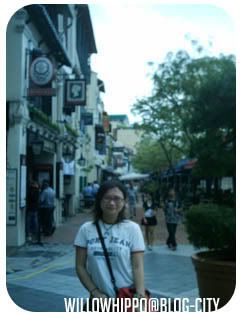 Boat Quay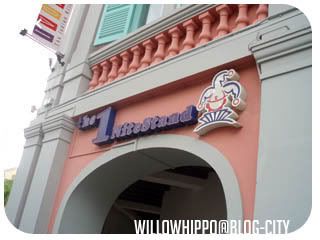 Anyone up for a....? ;P
First thing we saw upon entering Clarke Quay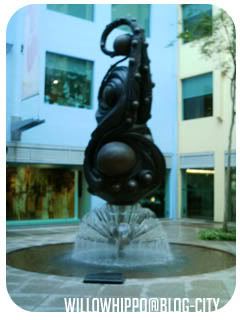 One thing I love about Singapore is that while walking we would stumble into all these art-related things and very well-preserved old buildings. This is something that I wish Malaysia would invest in, instead of building RM30mil ferris wheels. Oh, while I was browsing throughsome South East Asia Travel guide books, most of them would mention the Bok House. The smart thing is that some Malaysian idiot tore the Bok House down when it's so near Visit Malaysia 2007.... what an excellent timing.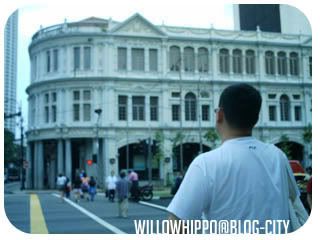 Being a law-abiding tourist XD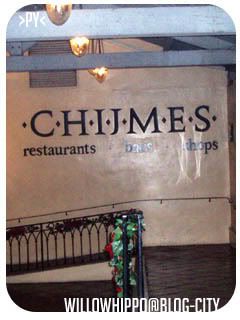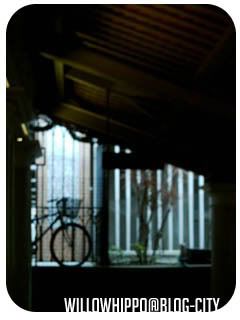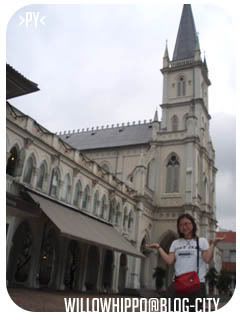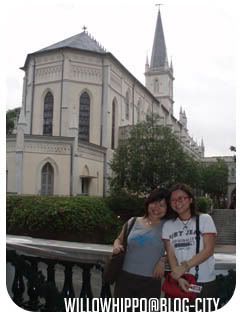 Left one: This looks as though I've been photoshopped in...
At Chijmes, I was supposed to have a look at the maid cafe I've been hearing about, but me and PY had to ciao soon. My aunt invited me to her house to makan while PY's dad booked her for dinner XDXD. And so, I thought we'd return another day, but we really didn't have the time.
Christmas Dinner at my aunt's was very delicious and fun. Let's start with the delicious part: there were spice rice with raisins in it, roasted turkey (of course!), sushi, tempura, two different kind of salad and a few others that I can't recall. I was the 2nd last person to arrive, and there was a mixture of relatives and their friends already seated and eating. At first I was a bit hesitant to go, because I'm not that close to my relatives, but afterwards, I'm glad I decided to go. The atmosphere was so warm and merry that I relaxed and had fun. I got along really well with this girl, Gloria, and we chatted loads. She's going to be a teacher soon, and by the way she's handling my young cousin and her friend, I bet she'll be an awesome teacher!
When I got back, PY was already konked out on her bed if I recall right. Half-asleep she is, but I was still... perky XD. We hung out in the main building for a while. I got bored watching telly, and there was a girl playing foosball alone, so I asks if I could join her. It didn't take me 3 minutes before realising that I totally suck at foosball XDXD. Later, PY and the girl's friend joined us. They're from Vietnam and spoke good English, but we never did ask for each other's names =P. But they were super nice and friendly and the girl was enviable-gorgeous. And then back in our building, I decided to charge my cellphone downstairs (the dorm is situated upstairs) while PY wants to hit the sack. So I plonked down on the uber comfy sofa nearby to read a Harry Potter book (which is on the shelves XD). Later though, PY joined me and we just chatted. I think this is one part of the trips that I loved... you see it's the wee hours of the morning and the staff sleeps in rooms downstairs, and so we had to whisper.
Around 3am, we went to bed.
Here's a nice story for you:
Around 5 am I woke up and there's this commotion around the bunk opposite mine. All I remembered was the this conversation:
Guy A: Is she breathing?
Guy B: *poking the girl on the top bunk* Yea yea she is.
Someone: Is she okay?
Someone else: Yea, I think she is...
Guy B: (asking bottom bunk) Hey, are you wet?
I was super blur, and I thought the people who were making the commotion woke up early to see the sunrise or something. I popped my head down to ask PY if she wanna wake up now. PY replies around the lines of, "You crazy ah? You know what time it is?" They then borrowed something from PY I think, because the guy said thanks to her. Anyway, they were getting noisier because more people are getting up and giggling, and I didn't think much about the whole thing, so I went back to sleep.
The next morning, the real story came out. PY was telling me eeeeverything in disbelief at me. Hey, if I can sleep through 3 alarm clocks, what did you expect? Anyway, it turns out, this group of people came in after a jolly night of drinking. After everyone shuffled off to their respective beds, the girl on the opposite bunk suddenly started retching. On her bed. Loudly.
For long long time, can?
To make the story juicier, she then slept in her own puke. Pretty much konked out actually. And by then, her drinking buddies got up to check on her, and hence the conversation above. To resume from that point, the bottom bunk guy wakes up and says, "No." But not a moment later, the dreaded sound of drip drip drip started and that guy leaps out of his bed and pulls his mattress to the side.
The funny thing about is this is that it did not stink. Which is why I didn't realise it. I'm not that numb, okay? Anyway, we were all puzzled by it (also thankful). We reckon it's just liquid, and she's just drank too much.

And there was I thinking these people were being so semangat, wake up so early XD.
The next day, I've only got a glimpse of her in the morning, and when I got back, she's gone. Turns out she was living in the main building and avoiding everyone from our building. I feel kinda bad for her... must be damn embarassing. I don't blame her either, because well, when you're that drunk, it's just uncontrollable. During breakfast, PY was chatting about it to some people and we were wondering who will sleep on that mattress. The person laughs and says, "Hey, who knows what your mattress has been through!"
Ignorance is bliss, mmmhmm....
Anyway, that mattress was replaced with a new one, and was hauled off to the balcony, washed/scrubbed down by the staff and it's still there when we left 5 days later.
Also, PY pointed out the drunk guy last night, who barged in the toilet a milisecond after PY unlocked the door and promptly unzipped his pants and peed while PY was hardly out of the door XDXD.
Oh oh, the charming street we lived in: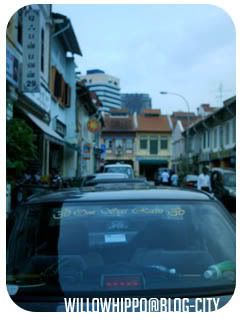 When I was snapping this, some guy ask me,
"Oi, you take my car ah???"
Me reply, "Aiya, no la!!!"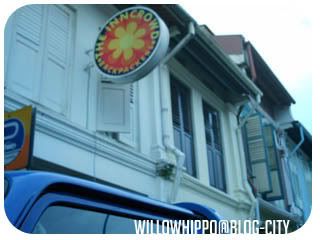 Zoom!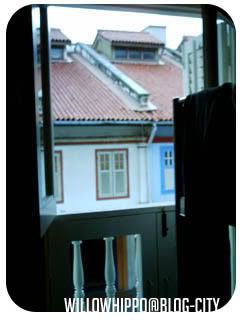 From inside the dorm. The view isn't much, but I love it so much.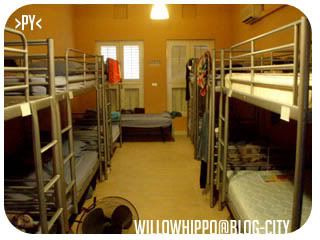 The room... cosy, no?
Can you see it? On every bed, there's a tag that has your name and country written on it.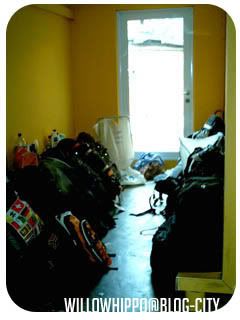 Where you put your backpacks (hygenic reasons)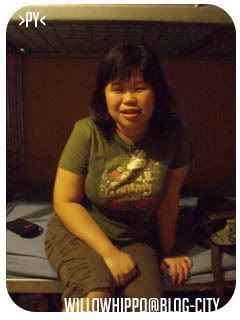 PY on bottom bunk.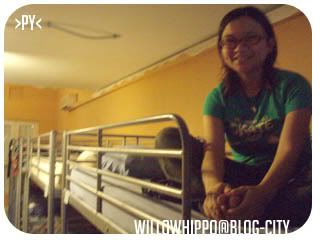 Me on the top. I'm Alpha, baby!!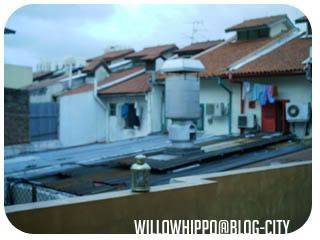 The balcony view at the back of the building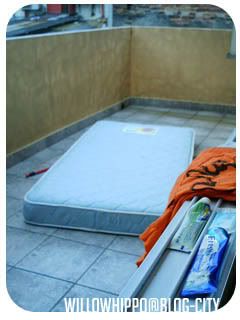 The infamous bed has fallen over...
Thus the ends the report for Day 1.
DAY 2
Me and PY signed up for a tour organised by the hostel. Four people signed up, and we grabbed a cab to go to Siong Lim Monastery in Toa Payoh, the oldest one in Singapore.
We were told to wait at 'San Men' and the tour guide was late. We joked that he or she had better be good to make us wait this long, and a Mr Chan finally arrived (he just finished bringing another group around). Well, to put it shortly, it was worth the wait, because Mr Chan was excellent and was terribly knowledgable. He told us a lot of things, like the purpose of a monastry, how monasteries has their 'ISO 9001' as the layout is same throughout China (so travelling monks would know where is where if they stop by etc.), the rich history of this monastery, which has WWII on it, and how it affects people.
Very gorgeous and well maintained.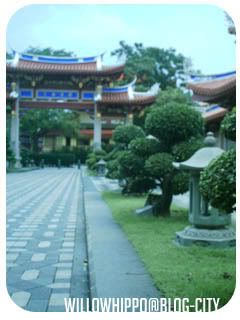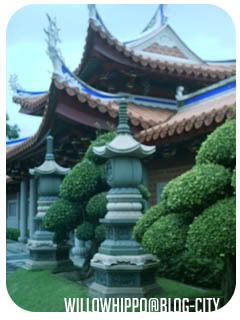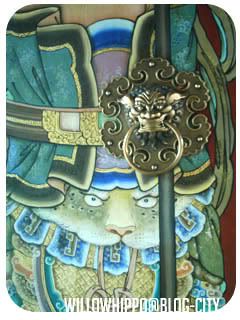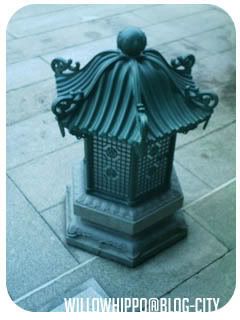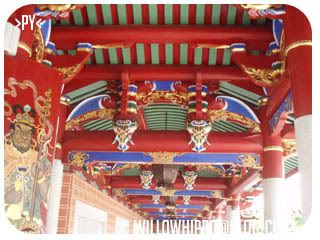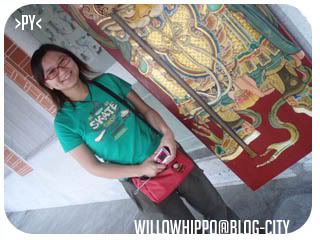 Why yes, I dressed for the occasion.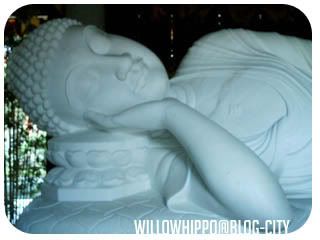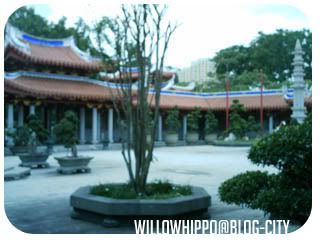 There's a swastika on the chest... not the Nazi's flipped-over one! It actually symbolizes peace.
Also, he was telling us that there's variations of a Sleeping Buddha. Though, not known everywhere, some places only practice it. If I recall right, when feet would be together, it means that he has passed on. If the feet are not lined up, it means that he is sleeping. Or is it the other way round? Gah...
After that, we took a bus to Toa Payoh MRT station and went to Bugis. Oh oh, at Toa Payoh station, there was this stall selling nice bags real cheap! S$6 for a bag, and I got this uber awesome brown bag that resembles a luggage at the bottom! Currently using it as my schoolbag. That day was also Gianne-drags-PY day =DDDD. First destination was the SGSellTrade Flee! Market, and I got a another lovely bag that makes me think of sailors, though the print outside has cowboys and maracas, while on the inside, the print consists of pink dogs... cute can??? Bargained to S$7, though I could go cheaper... but I'm just those sort of person who sucks at bargaining.

My only haul from the Flee! Market
Besides that, I was trying to do some fabric shopping in Singapore, or at least check out what they have there. So we were seeking for Arab Street where my online friend suggested me to go. She just told me that it's a short distance from Bugis Junction MRT, near Raffles Hospital, and we couldn't locate it... and most locals don't know where the heck it is either XDXD.
Anyway, a quick search on the map at the MRT gave us our answer.
Also, the whole short walk thing is an... subjective thing I suppose, because it sure as hell ain't short to me. Not that long, but it's not short either. Around that time, me and PY were feeling quite pooped due to the previous day's 4-hour++ walkathon. It also didn't help that my stomach started feeling uneasy. Ergh, don't you hate it when it happens?
However, I'd consider myself really lucky because there was a hotel nearby AKA acceptable-toilet-conditions- plus-free-abundance-of-tissues. And this was when the pain took a turn into the OMFGGG-GONNA-DIE road. How bad? Bad enough that I thought I could just keel over and pass-out kind of pain. Worse come to worse, I thought, Raffles Hospital is nearby. Yes, I was contemplating things like that. Also, there's a flashing image of me being wheeled into a hospital and my mom, with her hands on her hips, saying, "You will never ever backpack again!! I won't allow it!!". I even SMSed PY about the pain and told her I might take a long time while I was in semi-agony, but she didn't get it [=_=;]. Remind me to never, in my dying moment, to SMS my final parting words.
Just kidding, just kidding XD.
Luckily the murder within me subsided. And so we resumed our journey... Arab Street was a short distance away; we just need to cross the road, which we did. Barely a step further, the pain returned with a vengence. It's like cutting the head of a monster to find it growing 9 more heads.
The thing that sucks was that I can't run back dramatically into the hotel, because the damn pedestrian traffic light turned red the very moment I wanted to get to the other side. It's moments like this that makes me pine for KL...
Anyway, it all ended well, though I felt kinda bad because I made PY wait and perhaps, worry that this travel partner is no-good TT_TT. Before I left the hotel for the last time, I glanced at the name. How interesting; golden landmark... Oh yea, Golden Landmark Hotel... haha? I don't know why, but at that time I felt it was aptly named somehow....
MOVING ON NOW BEFORE THE ATMOSPHERE TURNS GROSS!!!
So yes, Arab Street. Though we didn't check out every single damn shop there, but the trip wasn't in vain, because we found some craft shop that sold the most adorable DIY charms/pendant~ We initially wanted to take a cab back to the dorm, but PY convinced me that it's a walkable distance to Little India. The walk turned into a blessing, because we stumbled into this really cool looking fabric shop called Textile 725. Bought some cloth there and the lady there was so nice... she gave me some fabric swatches, all neatly cut.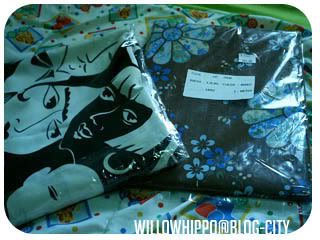 There's a green version of the right, which was really gorgeous,
but sadly, if I wanted that, I have to buy the whole roll.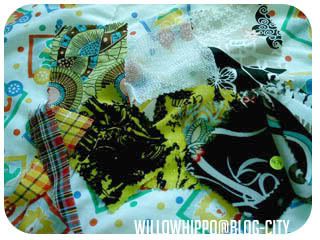 The swatches! The ones on far left are from KL... (not as neat XD)
On our way back, we knocked into the Vietnamese duo, and they tell us they're going to Zouk... Twas the last time we saw them =(. Back at the dorm, I told PY I'm gonna rest for a while. I took a charcoal pill, and pretty much relaxed in my bed. Half read a book, and half slept. Felt much much better afterwards. Then around 9pm, I went to eat my dinner at the foodcourt nearby. Later, PY and me went to Clarke Quay to check out the nightlife. There's some pretty cool places there, like the Reverse Bungy and Hooters XD. We were also really fascinated by this club called Clinic, so I think you can guess the theme; Staff in scrubs, tables like pills, those hospital screens and even an operating table with the overhead lights.
... did I mention the 'morgue'?
Beyond awesome.
When we returned, we headed for the main building where the TV, foosball, internet etc are at. The people there was watching Superman Returns or something on the telly. PY and me watched it while eating Ben&Jerry's, and we were talking with these two fun girls from KL~ Later we ended up chatting with this Indonesian guy, Freddy, though it's mostly PY and him chatting, while I listened. At 1am, we got shooed since it's past the permitted time XD.
So anyway, we were saying our goodbye's and before leaving the main building, we ended up chatting a little with three people who were sitting outside. 2 guys and 1 girl. I thought that they were Canadians at first because 'eh's littered their sentences, but they're from South Africa. Anyway, turns out that they were the ones who went drinking the day before and they were the ones checking on the passed out girl. The girl we were speaking to quickly denies that she had any part in regurgitating XDXD. Just drinking buddies!
I forgot how it happened, but the next day, Christmas's Eve, we'll be hanging out together...
Okay, I don't know about you, but this entry is long, even in my standards, so here's a