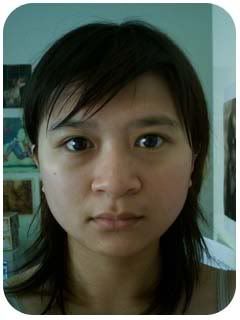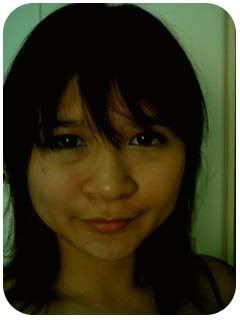 Why can't I look like this for my student ID and MyKad?
Make up: before and after. (Answer for abv ques would be , "Because you can't choose?")
For my aunt's wedding. Over a month back. I should get the award for make-up n00bist of the year. No foundation, no concealer, no blush. Don't bloody care la. Aiya. Anyway, my aunt could kick people's ass (elegantly) because she's so pretty in her gowns. Gorgeous couple, and gorgeous deco (me and my cousin snitched a couple of flowers). As usual, I skipped the shark fin's soup (FIGHT THE TEMPTATION YEAAAA) and went to the loo when it was served so I could dodge lame jokes from others around the table guzzling down the poor endangered animal.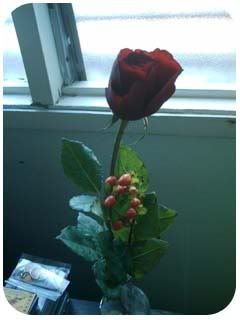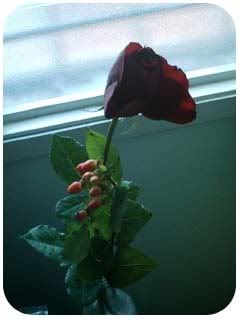 Stolen flowers (it bloomed the next day!!)
I was digging into some steamed fish every enthusiasticly, but suddenly halted. I meekly gave the rest to my mom and she was all, "Har? Why the sudden change? Something wrong?" I just smiled. Nothing wrong with it... it's just that I pierced my cartilage few days back and haven't told her. No seafood for me =(((. (I have since told her and she took it well)(I have since told her and she took it well)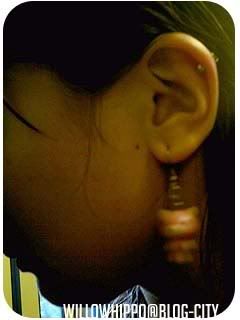 Want. More.
All in all, a regular wedding dinner la.
BUT!
Guess what happened the next day though.
FOOD POISONING OTL
Let's not imagine what contaminated the food...
Lucky in my case, it didn't hurt nor did I vomit. I just... utilise the toilet a lot, lol. My bro as well. My mom's fine. But my aunt (not the 'down the aisle' one) vomitted and other people had terrible stomachaches. Some ended up going to the doctor. From toddler to pregnant woman to old people kena.

I won't name the hotel that the wedding was held... no, it's not the one in front of Sg Wang. And no, the hotel initials is not PR either -cough-
Anyway, my grandaunt was really mad, because what could had been a happy fairytale moment for her daughter was ruined, blown into bits, placed in family history for the mass diarrhoe etc. They are planning to seek damages and all, which they should rightly. Claim for doctor fees also. I'm not sure about Malays and Indian weddings, but for Chinese weddings, if you attend the dinner, you'll have to pay about RM100 each, depending on how 'high-class' the place is, to help out the newlyweds. So I mean, if you go for a dinner with your beloved with an RM200 bill, you'd be pissed if you spent the next day stinking up the toilet wouldn't ya? Of course, not pissed at the family la. For me, I'm not mad at all. Because I didn't have anything important to do the day after that and I was at home XDXD.
=======================
Let's counter the stinky report with Madie.
Cuteness cures.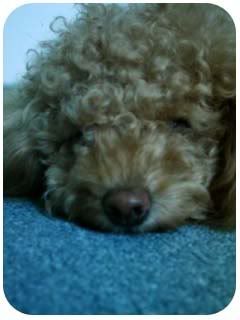 Love love her pink-ish nose
=======================

My cell phone was wonky enough until my mom wearily asks me to get a new one. Wonky as in, it keep dying whenever someone calls me. And knowing how exciting my social life is, 80% of my calls come from my mother.
From my very abused 4-year-old Nokia 3330....
.
.
.
.
.
.
.
.
.
.
.
.
.
.
.
.
.
.
.... to Sony Ericsson w300i!!!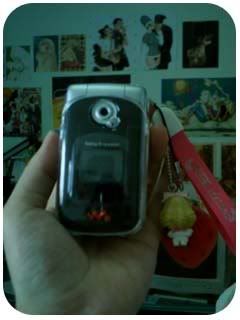 AAAHHHHHHHHHHHHH!!!!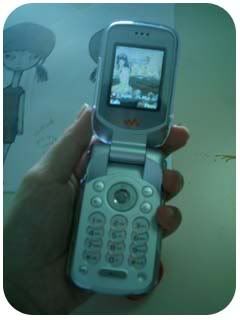 Words fail me to explain the scale of how much I adore it
I ignored my work and spent a whole day playing with it, but had to stopped myself from flipping it open too much... now I kinda understand how some guys goes into spasms of delight upon getting a new gadget.
Oh, I used to not care about my cellphone safety before as in, I'd leave it my bag to go elsewhere, or put it on the table as I chow food down, because who the heck wanna steal my 3330??? I think the thief will take pity on me and exchange it with a better one, but it's a different story now, haihz.
Big thanks to my oyaji for paying for me first. I could only pay him RM150 for the moment, so am planning to give him the rest once I start earning.
First ever video I took using my cam:
(Warning: MESSY ROOM!! PROCEED WITH CAUTION!!!)

The Tour de la Gianne's Room
Maybe it's not such a good idea to rise from your bed then decide to do an impromptu videolog (But hey, it was just a day after I got it! Still excited wtf). And I fail at clear pronunctiation, orz...

For an extra fact, the inspiration corner leads into the bathroom XDXD. Oh, you can see the character that I'm working on for my project in the second photo that has my cell opened.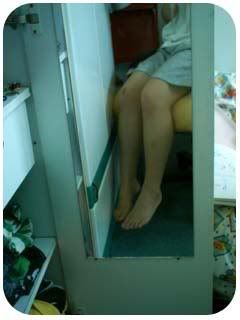 The lightbox is high and I have no tall swivel stools, therefore I sit on two cushions and hover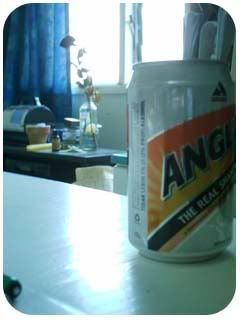 Anglia Shandy is yum.

===================================
Image of the day: Beware of the giant squid