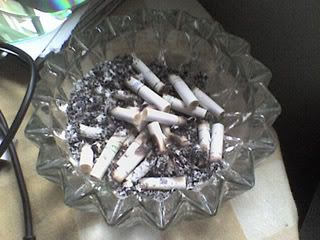 My brother has been smoking in his room recently. I honestly don't really give a shit about that, only our rooms have a connected bathroom and I do give a shit when the smell is seeping into my room like an uninvited intruder that you can't even punch in the face.
You know how cigarette smoke is, right? It would unpack its bags without permission and settle down in curtains, bedsheets, clothes, your hair and heck, even the toilet paper
tak terlepas
(uhm, I just happened to smell it...). Then stays longer than it should. And any attempts to evict it will be met with an upturned nose and an obnoxious "HAH YOU CAN'T GET RID OF ME THAT EASILY! HERE! SMELL MY 2ND HAND SMOKE!!".
My mom used to drive herself up the wall trying to remove the smell from my dad's clothes (also a smoker), but now she couldn't be bothered, hahah.
Just now I entered the toilet and my nose was overpowered by an army of perfume molecules. I think I heard a sort of *
whoosh
* sound when I opened the door, because the toilet's compressed air was rushing into my room where air molecules hang around chillin' with loaddddds of space. Oh My Gas-Chamber, my brother drowned the toilet in perfume.
I guess the good news is that the attempt worked because I can't smell the ciggie smoke. In fact, after a few seconds I couldn't smell ANYTHING at all.
That bad.
Thankfully my nose has since resuscitated.
Feel like chucking my bro into the loo and ordering him to smoke.